Bantam BBs are Champions in Belleville
---
---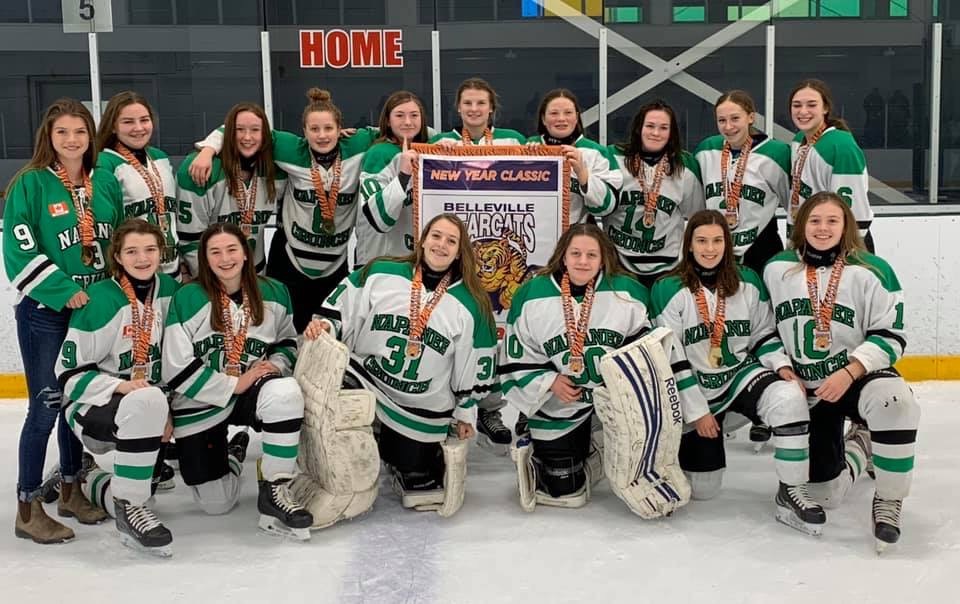 ---
Game 1, 4-0 over Carleton Place Cyclones. Keyra Herrington earned the shutout. Goals by Morgan Hennessey, Gracie Hughes and Kaylee Brooks. Assists by Hennessey, Charley Weir, Hailey Lay, Hughes(2), Bethany Foster.
Game 2, 3-0 win over the Smiths Falls Cubs. Aleaha Mallette earned the shutout. Goals by, Lay, Kristen Sutton and Abby Birdsell. Lila Pringle had 2 assists.
Game 3, 3-1 win over the Rome Grizzlies. Herrington got the win. Goals by Gracie Hughes, Kaylee Brooks and Claire McConnell. Assists by Birdsell and Maeve Kennedy.
Semi finals, a 1-0 win over the Carleton Place Cyclones. Mallette made several key saves in the 3rd period to preserve the win. The goal was scored by Lila Pringle from Bethany Foster.
The final was a chippy game against the Rome Grizzlies with neither team giving in. Gracie Hughes wound up from the point with a slap shot which was re-directed in front by Abby Birdsell to put the Crunch up 1-0 early in the 3rd period. The Grizzlies responded with 4 minutes to go on a scramble in front of the net. Overtime would solve nothing, forcing the shootout. The first Grizzlies shooter scored and Napanee's first shooter was stopped. Keyra Herrington stopped the next shooter with a nice glove save. Kristen Sutton tied it up with a nice deke. Keyra Herrington stopped the next shooter who tried to deke blocker side, and Kaylee Brooks blasted a puck by the Rome goalie for the championship win!